Watford v Everton. The Everton Forum preview. This week with added rambling about Marco Silva, Gerard Deulofeu, EFC's dreadful away form, Ramiro Funes Mori and of course, Oumar Niasse

After another long fortnight without a match, the blues finally return to action on Saturday.
I'm not really sure how to feel about these long breaks between matches. On the one hand, it's nice to be able to relax through a weekend without this frustrating Everton team making a mess of my mood, but on the other, it's just a bit grim isn't it? Mid-February, still getting dark outside at 5pm and Everton's season is all but down the pan.
Still, I guess that's not the attitude, there are 11 games to go and 11 games to try and win! We plod on…
I'd like to think the comfortable win last time out against Crystal Palace, combined with a 'warm weather training' trip to Dubai (or a jolly to you and I, go'ed Mason la') might have led to a fresh sense of optimism around the place, but until we see what they trot out on Saturday and beyond, there's no way of knowing.
Regardless, I feel like it's time for us to end the season strongly and aim for 7th place whilst it's right there for the taking, even if just to add a little bit of gloss on what's been a disappointing campaign.
First up in that quest for 7th is Vicarage Road on Saturday (5.30pm kick off, live on BT Sports) where we'll face 11th-placed Watford.
The Hornets
It's been a strange season for our hosts, but not one that feels especially out of the ordinary for a club that never seems content to just bob along quietly.
They started the season very well, playing a fearless brand of free-flowing attacking football that opposition teams struggled to deal with – particularly away from home, where their pace, athleticism and ability to break led them to score plenty of goals.
Summer signings such as Richarlison, Chalobah, Hughes and Doucoure all hit the ground running and with the swagger of new Portuguese manager, Marco Silva, the hornets were a delight to watch at times.
For that couple of months, the hornets were in and around the top 6, but around the time David Unsworth's Everton side beat them 3-2 from 0-2 down (with Watford missing a 100th minute penalty), it all seemed to go very wrong, very quickly when an awful couple of months followed as results nosedived.
Why? Well, Watford would lay the blame squarely at Everton's doorstep.
Not just because of that crazy game at Goodison Park when the blues rode their luck to record a vital win, but because of the toffees well-publicised pursuit of Watford's manager, Marco Silva, which would later be cited as a primary reason for Silva's dismissal.
Personally (and yes, I know I would say this), I don't think Everton did anything wrong in the pursuit. Players and managers frequently move onwards and upwards in football, it's just part of the game.
Everton offered good money to take Silva and it wasn't accepted. Yet, as a will for the deal remained from Silva's people and from Everton, better offers were made. Watford, as was their right, were unwilling to budge and I have no issues with that.
However, whilst Everton eventually moved on and settled on the current managerial option, it seemed Silva was unwilling to get back down to business with Watford, and it was that which ultimately led to him being sacked. As far as Watford are concerned, they may not like how they got to that conclusion and the fact another club had an impact, but they knew the risk of keeping somebody against their will, despite having good money on the table.
Whether you think Everton acted correctly in their Silva approach or not, the tension from the affair is sure to add a little spice to this encounter, with the Watford fans and board alike certain to want to get one over on the blues.
Since then, Watford have appointed the former Malaga and Rubin Kazan manager, Javi Gracia as their head coach.
It's definitely still too early to judge the Spaniard all that thoroughly as he's only had 3 games in his month at the helm, but what concerns me going into this one is the performance he managed to extract from his new team in his only previous home match, a resounding 4-1 victory over reigning Premier League champions, Chelsea.
Of course, there are mitigating factors to that result; First game at home for a new manager, Chelsea being in poor form, Chelsea having a man sent off after half an hour and 3 of the Watford goals coming in the last 5 minutes – but still, the fact remains, Watford were very good that night.
One man who was especially good was a magic little Spaniard we know only too well, the former Everton fan-favourite, Gerard Deulofeu.
I won't deny it, I was sad to see him leave Goodison mid-way through last season and gutted to see him join another Premier League side this January.
I know some people don't rate him, don't think he makes the right decisions and don't think he can do more than an hour without needing to be subbed. I get all of that, but under the right management, I still believe he's an exciting player who can get fans off seats and destroy defenders.
In hindsight, given what we had at the time, it was probably poor to let him go, but now we have Theo Walcott, would he play ahead of him? Not for me.
Anyway, I'm sure Geri will have a point to prove on Saturday and unless he's silly enough to be outwardly disrespectful to the traveling fans (which I hope/think he's better than), I'm sure he'll get a good reception from the away end.
Away from the sentimentality of playing against a former blue, Deulofeu is a dangerous player and one who could really damage an Everton back 4 that seems likely to be lacking both senior full backs.
On the opposite flank, the task won't be much easier as the young Brazilian Richarlison is also very dangerous and can both score and assist coming inside from the left as we saw at Goodison earlier this season.
The other player who stands out for Watford is their French midfield powerhouse, Abdoulaye Doucoure.
I've been very impressed by him this season and wouldn't be surprised if his stay at Watford was a brief one, as bigger clubs will almost certainly come sniffing in the summer. He's big, dominating, strong, powerful, athletic and can score goals from the central midfield area.
Doucoure has already scored 7 goals from centre midfield, has a good strike on him and standing 6ft tall, is capable in the air from set plays.
With him likely to be starting the match alongside a fairly similar player in countryman Etienne Capoue, Watford will have a very physical duo in their engine room which the blues, lacking an in-form powerhouse of their own, will do well to handle.
In terms of the rest of the Waford side, I think we're likely to see Gracia continue with the 3-4-3 he selected against Chelsea and at West Ham.
Presuming he returns from a knock that kept him out of the last game, Watford's Brazilian veteran mainstay Huerellho Gomes will start in net. In front of him, the centre back trio of Prodl, Mariappa and Holebas have started the last 2, with the dutch duo of Janmaat and Zeegelaar starting as wing backs on either flank.
In midfield, the French pairing of Doucoure and Capoue provide Watford with athleticism and steel, whilst the talented wing twins, Deulofeu and Richarlison operate wide in a forward 3, either side of club-captain 'old school' centre forward Troy Deeney.
It doesn't look the most amazing team on paper, particularly in defence, but there are certainly dangerous forwards who are capable of causing trouble to what remains an unsettled Everton back line and robust midfielders who can help the home team control the game.
Away from that recent starting 11 of choice, Watford are blessed with other decent forward options in Pereyra, Carrillo and Gray. However, in other areas of the pitch they do look thin on the ground due to quite a severe injury crisis with players such as; Chalobah, Hughes, Cleverley, Kabasele, Fermenia, Britos, Wague, Cathcart and Kaboul all either rated as doubtful or unavailable for this one.
From a Watford point of view, I'm sure their fans will be intrigued to know whether the Chelsea performance is what they should come to expect from Javi Gracia's side at home, or whether that was just a result of the stars aligning for them on that night. Either way, with just 16 points won from 13 home games and the most home goals conceded in the league (26), the hornets home support will undoubtedly be keen to see much more from their team at Vicarage Road.
Overall, I think we can expect to see a committed Watford on Saturday, fresh from a fortnight on the training ground (having also already exited the FA Cup) and potentially some players back from injury.
Although I don't think they're a better side than Everton are on paper, let's just say the blues have failed to beat worse away from home in recent times.
The Blues
I didn't think it was an especially amazing performance against Crystal Palace a fortnight ago, but fortunately the blues got the breaks on the day and ran in comfortable 3-1 winners.
However, despite that victory, I'm hesitant to pay too much attention to it when previewing an away game like this, as the disparity between Everton's home and away form remains so vast…
At home, the toffees have won 26 points from 14 games, including 8 wins, placing them just 1 point behind what Liverpool have managed at Anfield so far this season.
However, away from home, Everton have won just 8 points from 13 games, with 1 win, placing our away points tally behind that achieved by such Premier League superpowers as; Swansea, Bournemouth, Crystal Palace and Brighton & Hove Albion.
Whilst the blues have scored 23 goals at home, we've notched just 9 away from Goodison Park and when that poultry figure is combined with the fact we've shipped 28 in those 13 away games, Everton's pathetic away points tally doesn't come as a surprise.
The away form was a big problem in the second half of last season under Ronald Koeman and now, more than 2 thirds of the way through this, it hasn't improved whatsoever.
Yet, with what are the 'easier' (note the inverted commas) games from our run-in coming on our travels…
Watford, Burnley, Stoke, Swansea, Huddersfield and West Ham (compared with Brighton, Man City, Liverpool, Newcastle and Southampton at home).
The away form simply must improve if we want to get 7th place.
I could go on and on, suggesting why we're so poor away from home but I think it mainly comes down to 2  issues…
Firstly, and above all else, these players really lack a set. They seem to shrivel up when they set foot outside of Goodison and the second we concede away from home, as fans we're basically all wondering 'how many will they treat the opposition to today, then?' (United 4, Southampton 4, Spurs 4, Arsenal 5 etc).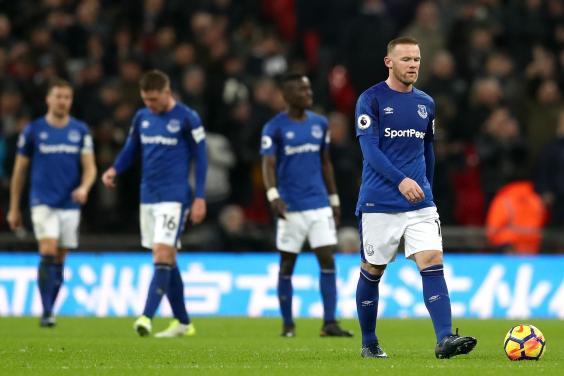 Secondly (and it is a lesser factor when he's only been here 3 months), Sam Allardyce doesn't seem to know how to set out an Everton team away from home. Not just in terms of the negative attitude he instills in the players, but in his tactics and selections, which for such an experienced manager is bemusing…
– West Brom – bottom of the form table, no wins in 20 games, he goes with 5 at the back.
– Bournemouth – 2nd bottom of the form table, he goes with 3 central defensive midfielders and players coming back from long term injuries.
– Arsenal – fantastic when given time on the ball to probe around the box, he goes with 5 at the back and invites them onto us.
Either way, it's not an away record befitting of a team that's spent what we have trying to improve and ultimately, not a record fit for the fantastic away following of our club, who continue to sell out allocations up and down the land.
Anyway, onto Vicarage Road and a team in Watford who've struggled at home this season.
Will the familiar strains of Z-Cars prompt the blues to play like they're at Goodison, or will it be just another away day to forget?
I personally think we'll see Sam Allardyce go back-to-basics here, just like at the start of his reign, when we got that vital win against West Ham and he rode the wave, I reckon he'll look to pick virtually the same winning team.
The problem he faces, however, will be with the 3 injuries the blues sustained last time out when all 3 of Eliaqium Mangala, Seamus Coleman and Idrissa Gana Gueye couldn't continue so required substitutions.
As I write this on Thursday, I haven't heard the injury news following the fortnight off, so it's plausible Coleman and (more likely) Gana could be fit for this one. However, it looks like the on-loan Manhester City man, Mangala might be set to follow in the footsteps of Lacina Traore by making just 1 Everton appearance at Goodison, before vanishing never to be seen in the royal blue again.
I'm probably in the minority as I know plenty didn't approve of Mangala's signing last month, but I do think it's a shame for the lad. He gave us the option of playing a higher line and also provided some balance to our back 4 by being left footed.
However, 1 man's loss is another man's gain, and this time, the beneficiary could be the fit-again Ramiro Funes Mori.
The Argentine has been working his way back to fitness for a while now and having recently featured twice for the under 23s, must be in-line for a return to first team action soon.
Of course, let's not get carried away here, he certainly isn't the second coming of Paolo Maldini, but he is a left-footed centre half who can also play at left back, with a World Cup to think about. So I for one, would stick him in the team on Saturday at left sided centre back (however, I do think Allardyce will stick with Williams).
If Seamus Coleman is fit, there's no doubt he plays, but I personally can't see it, so Jonjoe Kenny looks set to start at right back. Michael Keane seems to be the man in possession at right sided centre back, so he'll probably start, leaving the much-maligned left-wing wizard with 2 assists from left footed crosses in 2 games, Cuco Martina to resume at left back.
There has been some talk of a return for Leighton Baines in the past week or so, but given that he's struggled with recovery and only returned to training last week, I can't see him being rushed back here.
Moving into midfield, the trio of Davies, Rooney and Gana need to continue if all are available. I thought all three of them played well against Palace and whilst none are huge in stature, each offers something different.
Davies drives.
Gana patrols.
Rooney tries to make things happen.
I'd just leave them be from now on in the hope let they can form the heartbeat of this side.
Gylfi Sigurdsson should continue from the left. I thought he was our man of the match in the last game. He doesn't offer modern wing play in terms of getting to the byline at pace, but he works hard, offers himself for the ball, gives us good delivery from wide and offers some goal threat.
Theo Walcott is boss. He already looks our best attacking player and has really been playing with fire in his belly. He's hit the ground running since he arrived a month ago and already looks a fan favourite. If he's fit, he starts every game.
Then there's the striker situation. 3 options and just 1 shirt.
Cenk Tosun looked very good in the training snippets we saw from the Dubai trip. It seemed like he reveled out there in the sun, he got loads of airtime, praise from team mates and seemed to bond nicely according to the social media photos.
Dominic Calvert-Lewin will always give his best, he'll compete physically, score the odd goal and I can't knock him for his efforts this season when far too much has been pinned on his shoulders.
However, then there's Oumar Niasse. The joker in the pack.
How can he be left out when, somehow, he just continually makes things happen? A goal and an assist against Palace, despite stinking the place out in the first half.
I mean this in the nicest possible way, but he's got to be the best rubbish player Everton have ever had. He's a terror, an absolute nuisance, yet his general play outside the penalty area is awful at times. He should not be able to lead the line for a top-half Premier League side, but scores goals. Can we really afford to be snobby about his lack of ability in the build up?
His goal against Palace summed him up, he gets into a goalscoring position, tries to head it into the near bottom corner, mistimes the header, it hits the side of his head and goes in the opposite bottom corner (photo above). Bit of a comedy goal but they all count and frankly, the fact they go in is all I'm bothered about.
Not excusing his exceptionally poor treatment of our Oumar, but you can see why Ronald Koeman wasn't having him for his lack of technical ability, however, when he slots like he does, can Sam Allardyce afford to ignore him?
I ask myself, does Niasse deserve to be dropped? And to me, the answer at the moment is no. Right now I think Cenk and Dom have to earn their place by coming on and positively affecting games in cameo appearances.
So, here's my team for Saturday –
Like I said, I reckon Williams will start over Funes Mori, but the rest, injuries permitting could be a goer.
Back up could come in the form of Calvert-Lewin, Cenk Tuson, Bolasie, Schneiderlin, Holgate, Jagielka, Klaassen (give the lad a chance for god's sake) or Vlasic.
The blues will need to be careful of Watford's threat from wide areas and their pace on the counter attack, however, we should really be looking to impose ourselves on a team such as these as defensively, they're not the best.
If we can get the first goal and play sensibly, we should be able to leave with 3 points, but given our shocking away record, I wouldn't be at all surprised if we dropped points.
Fresh from his controversial dismissal of Fabian Delph on Monday, the referee for this one is Anthony Taylor.
The man who gave Oumar Niasse his stonewall penalty at Selhurst Park in November, he surely won't want to make the headlines again come Sunday, right? Although perhaps it is a bad omen that Taylor reffed this game last season, a 3-2 home win.
Anyway enough of this preview, enough of this rubbish away form. Time to put it right!
3 points here please blues! COYB!!
Do you want somewhere online to discuss the match, all things Everton, or just about whatever you like? Join The Everton Forum. Just click the link and sign up. It's dead easy, laid back and friendly. See you there!
I post as bluerinse, or you can find me as @GigHaWatt on twitter.
Thanks for reading!